HAIFA WAHBI : Sexy pictures, videos, and Scandals !!!
Focus on Haifa Wehbe, or one of the largest lebanese female star ever seen.

Who is she really ? A magnificent Eastern princess, full of sensual moves ? An erotic fairy, taken from a book? Or is she a kind of luxury love doll ?
In the current language, Haifa Wahbi is more commonly referred to be as an… ATOMIC BOMB. This lebanese singer shines more by its beauty, its scandals and its provocative behaviour than for his real talent as a singer.
Let's get on stage, and discover or rediscover all and anything about Queen Haifa.
BIOGRAPHY
Haifa Wehbe or Hayfa Wehbi (Arabic: هيفا وهبي) was born on March 10, 1970 in Beirut, Lebanon. Her father is a Shiite Muslim and his mother is Coptic.
She really started to saw the star lights when she won the "Miss South Lebanon". A few years later, she reached the second place at Miss Lebanon 1995. This success allows her then to participate in many fashion shows and appears in many well known magazines.
MUSICAL CAREER OF HAYFA WAHBI
Her 1st album is  entitled Howa el Zaman.
She tooks her music roots mostly in jazz and R'n'B.
More than her musical talent, Hayfa Wahbi success has be built around sexy and sensuality from her hot body which helped her a lot to shine in the Arabic scene. In this condition, no need to really focusing on her songs which are not really the reasons why she today on top.
THE CONTROVERSY OF HAYFA WAHBI
Haifa Wehbe is highly controversial in the Arab world because many of her videos are showing a lot of suggestive moves and sexy dresses. Haifa is full of charm and she is playing a lot with this, in a way, the more people are shocked, the most Haifa continue to be sexy.
Well im not a liar when i say that Haifa Wahbi is one of the most beautiful women in the world. A magazine even put her in top 50 of the most beatiful women in the world . 
However, Haifa Wehbe is the antithesis of anorexia Western models, she is always highlighting her extremely generous breast or bottom, and males are enjoying that !!
But to be honest in arabic countries, she is attracting almost as much as she is disturbing. Maybe because she is as sexy than gorgeous.
 Her beauty has something that strange that we can say she is both angel and devil atthe same time. She has a kind of hypnotic Beauty. Her body made with generous forms, allready made million of Men falling in love for her.
With Internet power, the West is slowly starting to discover her, but she is far to be a star like she actually is in the Middle East and North Africa .
HAIFA WEHBE AND SURGERY
Like every famous singer or actress, Haifa Wehbe career, required some surgeries. In this video, you can see Haifa Wehbe before surgery.
HAIFA WEHBE SCANDAL
Most of the conservative Arab hate Haifa. Each time there was a HAIFA WEHBE concert they tried to cancel it. In several occasions, they pulled a lot of pressure, to see HAIFA far from arabic TV.
Although Egypt and Algeria have resisted to pressures Bahrain, for example, has failed to ban one of her concerts in this country after Islamist MPs have exercised pressure . Haifa Wehbe had been forced to wear a lot less sexy than usual.
 Another scandal was launched with this video:

This video shocked many Lebanese belonging to the Christian community.  Indeed, large Christian crosses appeared in the video, before they finally got cleared. The producer had to apologize but produce trouble explanation to explain why christian crosses were in the video …
HAIFA WEHBE THE SEX TAPE
Every famous singer or actress can't be on wall of fame if they don't have their sex tape.
In Haifa Wehbe case, we don't know if it's a fake sex tape or not!
The infamous sextape has been directed when Haifa was still a simple miss. The extremely rare pornographic video , is showing a woman who strangely looks like Haifa Wehbe during a sex party. No particular detail can tell it's 100% Haifa, still it's easy to find some …
For that matter, Haifa goes on court in Lebanon in order to attack the person she accused to release the (fake?) video, but she has been dismissed.
HAIFA WEHBE AND ADVERTISING
Haifa Wehbe was casted with famous french soccer player, Thierry Henry, to play in an ads for Pepsi.
HAIFA WEHBE VIDEOS
THE SEXIEST LIVE SHOW OF HAIFA WEHBE
THE TRAGIC LIVE SHOW OF HAIFA WEHBE
In that show HAIFA is crying during the interview
THE VERY SEXY AND HOT PICTURES OF HAFA WEHBE
This pictures have been taken on a beach in Lebanon, with a cellphone. You can see Haifa beautiful body from every possible angles.
HAIFA WEHBE AT CANNES FESTIVAL IN 2007
VARIOUS SEXY PICTURES OF HAIFA WEHBE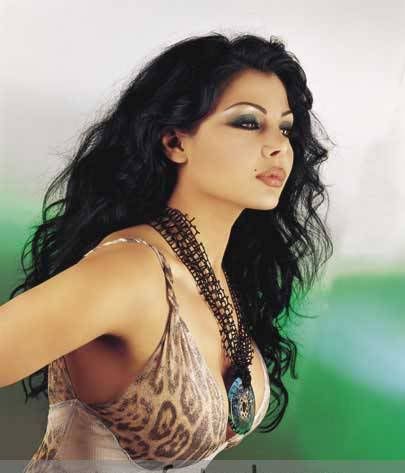 Dear friends, the article now close. If you have any information, corrections to make on this article, please do not hesitate to give us comments or feebacks.
On a final note this is one of my fav song of Hayfa Wahbi :